APPLY FOR THIS OPPORTUNITY! Or, know someone who would be a perfect fit? Let them know! Share / Like / Tag a friend in a post or comment! To complete application process efficiently and successfully, you must read the Application Instructions carefully before/during application process.
The centerpiece of the Lincoln Boyhood National Memorial in Lincoln City, Indiana is the Memorial Building. Completed in 1944, it also serves as the Visitor Center at the park. Constructed of a type of limestone, the building houses a small theater which shows a 15-20 minute interpretive film (narrated by Leonard Nimoy) depicting Lincoln's boyhood in Indiana; a small but tasteful museum about Lincoln's youth featuring artifacts; a selection of artwork and prints of Lincoln; and a small chapel and hall where frequent weddings are held.
The most impressive feature of the Memorial Building by far are the five bas-reliefs (carvings) which represent major periods of Lincoln's life. Each carving was made from a solid block of limestone measuring 8 feet tall by 13 1/2 feet wide, weighing at 10 tons! The sculptor was Mr. E.H. Daniels. I cannot describe their beauty adequately.
Kentucky Panel
The Kentucky panel shows the years that Lincoln spent living in Kentucky from the time of his birth in 1809 until 1816, when the family moved to Indiana. Lincoln is shown as a 7-year-old in the center of the carving. Others featured include his father, Thomas, (second from left); Dr. Christopher Columbus Graham (seated) a scientist who visited Lincoln's home and fascinated Abe with wonderful stories; his mother Nancy; his sister Sarah; and his first school teacher.
Indiana Panel

The Indiana panel represents the years Lincoln spent living in Indiana (1816-1830), and features him standing in the center as a 21-year-old man. The others shown include his friend Allen Gentry (second from left) whom Lincoln traveled with on a trip down the Ohio and Mississippi Rivers to New Orleans; his father Thomas; and his step-mother Sarah Bush Lincoln.
Illinois Panel
The Illinois panel of course represents the years Lincoln spent living in Illinois, from 1830 until 1861 when he left for his inauguration as the 16th president. Here, Lincoln is shown receiving congratulations from friends upon his election the U.S. Congress in 1846. Represented from left to right are John Stuart, his first law partner; Stephen Logan, another law partner; his good friend Joshua Speed (shaking Lincoln's hand); newspaper editor Simon Francis; Mary Todd Lincoln; and Orville Browning, a Lincoln friend and future U.S. Senator.
Washington Panel
The Washington panel represents Abraham Lincoln as president during the Civil War, meeting General Ulysses S. Grant in
Petersburg
, Virginia near the end of the war. Grant is shown to Lincoln's right. The other figures represent the hundreds of thousands of men who made the Union victory possible.
"Now He Belongs To The Ages" Panel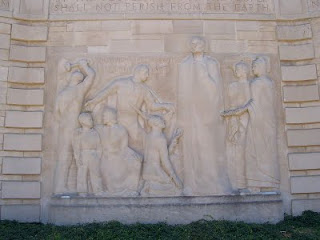 The central panel of the Memorial Building is representative of the final legacy left by Lincoln to the nation upon his assassination. The words "Now he belongs to the ages" were spoken by Lincoln's Secretary of War, Edwin M. Stanton, upon Lincoln's death on April 15, 1865. (Yes, some historians claim that Stanton said "angels" and not "ages", but that is a discussion for another time). Lincoln is shown in this panel ascending to Heaven after his death. The other figures are symbolic of the various groups of people to whom Lincoln belongs: laborer; farmer; mother and child; and freed slave. To his right are Columbia (a national symbol); and the Muse of History, Cleo.
Summary
The descriptions of these panels came from an explanatory handout given by the National Park Service to visitors. Interestingly, these panels are not described anywhere on the official website of The Lincoln Boyhood National Memorial. The photos I've included are ones I took and others I found on the
Internet
.
In my opinion, at least, the Memorial Building is beautiful and meaningful. Should you ever have a chance to visit The Lincoln Boyhood National Memorial, be sure to take some extra time and look at the carvings. They are truly works of art.
How to Stop Missing Deadlines? Follow our Facebook Page and Twitter !-Jobs, internships, scholarships, Conferences, Trainings are published every day!