APPLY FOR THIS OPPORTUNITY! Or, know someone who would be a perfect fit? Let them know! Share / Like / Tag a friend in a post or comment! To complete application process efficiently and successfully, you must read the Application Instructions carefully before/during application process.
From today's edition of the Daily News-Record (Harrison, VA) comes this story about efforts underway to preserve a piece of Abraham Lincoln's family history. The Lincoln Society of Virginia entered an option last week to purchase almost ten acres of Lincoln's family homestead site which includes an antebellum house and a family cemetery. The goal of the Society is to restore the house and open a museum to honor Lincoln and to remember his Virginia family roots.
Abraham Lincoln's great-grandfather, John Lincoln, set up the original 600 acre homestead in 1768, according to the Society. John's son, also named Abraham, was President Lincoln's grandfather, who later relocated to Kentucky. Other branches of the Lincoln family continued living on this estate. The home pictured here was built around 1800 by Jacob Lincoln, brother to President Lincoln's grandfather Abraham. It is considered to be a "Shenandoah Valley Federal-Style" brick home, with later additions.
The
Lincoln Society of Virginia
was founded just five years ago in 2004 with the goals of promoting the Lincoln family legacy in the Shenandoah Valley of Virginia, to help protect the Lincoln Family cemetery, and to of course disseminate information about President Lincoln. It now faces the steep task of raising over $450,000 in order to purchase the home and ten acres of land from the current owner. It has two years to reach the target.
I've included another photo of the house below, which shows the current state of disrepair. Plans are in place to restore the home to its former glory once the fundraising goals are met. The second photo below is a snapshot of the ancestral Lincoln cemetery.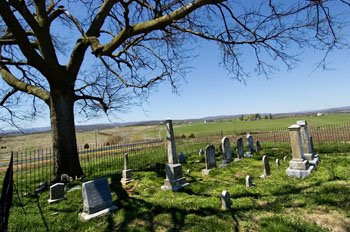 How to Stop Missing Deadlines? Follow our Facebook Page and Twitter !-Jobs, internships, scholarships, Conferences, Trainings are published every day!