APPLY FOR THIS OPPORTUNITY! Or, know someone who would be a perfect fit? Let them know! Share / Like / Tag a friend in a post or comment! To complete application process efficiently and successfully, you must read the Application Instructions carefully before/during application process.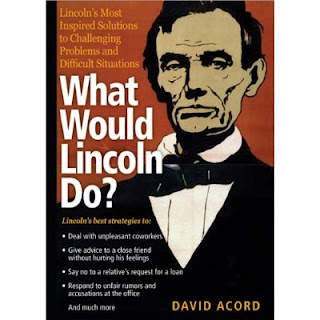 Countless books have been written about Abraham Lincoln over the past 150 years, from children's books, to books about his jokes and stories, and of course serious biographies. A book out this year might just be one of the more unique Lincoln books ever written.
"What Would Lincoln Do?" by David
Acord
, is not a biography nor even a reference book about Lincoln. Instead, it's a self-help or book of advice with that advice coming to the reader from none other than Abraham Lincoln. As the back cover of the dust jacket reads: "How much easier would it be to tackle your everyday problems if you could have Lincoln advising you?" Mr. Accord is not a trained historian. He is a professional editor and journalist, who happens to also be a Lincoln buff.
Through the writings of Lincoln (from letters and speeches), Mr.
Acord
shows by Lincoln's example how we can deal with difficult co-workers, handle unpleasant situations, inspire people around us, and even how to say no to someone who asks us to borrow money.
The book is organized into two parts: personal interactions and the professional environment. Each part has various chapters, such as responding to rumors, giving advice to a close relative, encouraging and consoling others, and perhaps most difficult of all, admitting when we've made a mistake. The chapters each begin with an example of a speech or letter written by Lincoln. Then Mr.
Acord
examines the letter and points out how we can use Lincoln's example to help us in our own situation.
Acord
is careful to give the date of the writing being used in the example and gives context when necessary.
"What Would Lincoln Do?" makes for interesting and, at times, even intriguing reading. Unlike most books of its genre, this advice book doesn't get burdened by psycho-babble and pontificating by the author. At 166 pages, it's long enough to be of substance, yet brief enough to hold the reader's interest.
I was impressed by the writing style of the book. I checked some of the dates provided in the examples of Lincoln's writings and was happy to see that they are accurate. A minor nitpick is that
Acord
might have included a few words about the source(s) he used for the Lincoln writings. That would have been helpful to any reader who would like to read more about what Lincoln wrote.
After I finished "What Would Lincoln Do?", I had an even better appreciation for the wisdom and maturity that Lincoln showed in dealing with difficult situations.
Acord
does a very commendable job of explaining Lincoln's motives, reactions, and words. I was skeptical as to whether or not I'd enjoy this book. I typically don't like books of this type. But I found it to be so interesting (and helpful) that I read it in just one evening. I can and will recommend this book to others.
Disclaimer: I was contacted directly by the author, David
Acord
, who inquired of my interest in the book and willingness to blog about it. I received a copy of the book for my review, but have in no way been otherwise compensated. I am not related to the author, nor am I associated with the publisher. You may purchase a copy of the book
here
.
How to Stop Missing Deadlines? Follow our Facebook Page and Twitter !-Jobs, internships, scholarships, Conferences, Trainings are published every day!