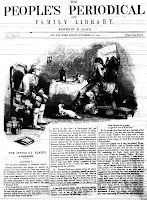 The 21st November 1846 issue of Edward Lloyd's 'penny dreadful'
The People's Periodical and Family Library
contained the first part serialised story entitled
The String of Pearls: A Romance
. The story, which was published in eighteen weekly editions, tells of the mysterious disappearance of a naval officer called Lieutenant Thornhill, who is last seen entering the Fleet Street premises of a barber called Sweeney Todd. Thornhill was in possession of the string of pearls from the title.
The pearls were a gift for a girl named Johanna Oakley from her lover, Mark Ingestrie, who is presumed lost at sea. She joins forces with Colonel Jeffery, a friend of Thornhill's, to investigate the disappearance of the two men. Eventually, they uncover the grisly facts: Todd is killing rich patrons of his shop for their valuables, while his partner in crime, Mrs. Lovett, disposes of the bodies by using them as filling for her pies.
The story may have been based on an infamous murder from 1784 (the year before the setting of the Sweeney Todd story). A journeyman barber was shaving a gentleman, told of the barber of his exploits with a young woman who lived nearby. The barber assumed that the woman in question was his wife and slit his throat from ear to ear.
While the author of the The String of Pearls remains anonymous, the work is generally attributed to Thomas Peckett Prest; although, it may have been the work of James Malcolm Rymer. Both men wrote 'penny dreadfuls' for Lloyd, and both may have wanted to protect their professional reputations as composer and civil engineer respectively.