APPLY FOR THIS OPPORTUNITY! Or, know someone who would be a perfect fit? Let them know! Share / Like / Tag a friend in a post or comment! To complete application process efficiently and successfully, you must read the Application Instructions carefully before/during application process.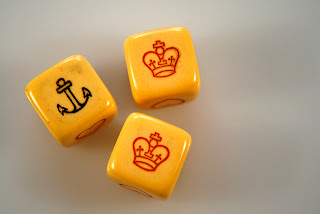 An Army gambling game I came across in the John Masters book 'Now God be Thanked' was Crown and Anchor.
After some investigation I found that Crown and Anchor was a popular game in the ranks and involved a dice and a piece of cloth marked with six symbols: a crown, an anchor, a club, a heart, a spade and a diamond. These were lovingly referred to as the Major, the Mud-hook, the Shamrock, the Jam-tart, the Curse and the Kinkie. The stake was put on one symbol and if it came up when the dice was thrown the banker paid out.
A Guards private Stephen Graham looked upon the whole game with a philosophical twist:
'The experience of a soldier's life in escaping death and wounds impresses him with the idea of a lucky chance. War breeds gambling as a natural and inevitable fruit.' For many soldiers the choosing of the right symbol was an addictive pastime.

The banker, of course, as in all gambling enterprises wins in the long run. The odds were very much in his favour and many men at the front have related seeing a banker cleaning up a thousand francs in one or two days. The Crown and Anchor banker usually gave a machine-gun relentless patter to entice his punters to play. "Here we are again, The Sweaty socks! Cox and Co., the Army bankers, badly bent but never broken, safe as the Bank of England, undefeated because they never fought; the rough and the tough, the old and bold! Where you lay, we pay, If you don't speculate, you can't accumulate.'
How to Stop Missing Deadlines? Follow our Facebook Page and Twitter !-Jobs, internships, scholarships, Conferences, Trainings are published every day!