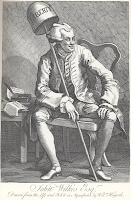 In June 1762, the Member of Parliament for Aylesbury, John Wilkes, started an anti-government newspaper entitled
North Briton
; although, he was careful to do so anonymously. He produced it in response to a newspaper called
The Briton
, which supported the Earl of Bute's new government. Bute was a favourite of King George III, having tutored him while he was Prince of Wales.
In issue number 45 of North Briton, Wilkes criticised the King's speech, particularly the comments concerning the recent Treaty of Paris, which Wilkes considered generous to France. Wilkes' accusations that the King had lied resulted in George ordering his arrest for libel along with forty-nine other people associated with the newspaper. Copies of the edition were seized and Wilkes was sent to the Tower of London.
Wilkes successfully challenged the legality of his arrest under General Warrant, gaining a great deal of popular support in the process as a champion of liberty. In his defence he cited his parliamentary privilege, which gave MPs a degree of legal immunity. Although, the Commons later decided that parliamentary privilege did not apply in the case of seditious libel.
Wilkes' enemies in Parliament continued their campaign against him, particularly the Earl of Sandwich, who Wilkes had embarrassed by bringing a costumed baboon to a meeting of the Hellfire Club. The following year, the Earl read the House of Lords a pornographic poem co-authored by Wilkes entitled 'An Essay on Woman', which parodied Alexander Pope's 'An Essay on Man'. The Lords declared that the poem was both obscene and blasphemous, and moved to expel Wilkes from the Commons.
On 19th January 1764, the House of Commons expelled Wilkes for being an unworthy member, having received proof that he had published North Briton. Wilkes had already fled to France and was tried in absentia for libel. His failure to return to face trial resulted in him being outlawed that November. He remained abroad for four years before returning to England to serve a sentence of twenty-months.