APPLY FOR THIS OPPORTUNITY! Or, know someone who would be a perfect fit? Let them know! Share / Like / Tag a friend in a post or comment! To complete application process efficiently and successfully, you must read the Application Instructions carefully before/during application process.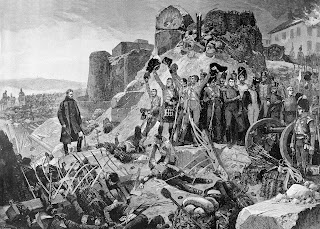 At the storming of
Badajoz
in 1812, George Hennell was attached to the 94thFoot as a volunteer.
Here he describes his baptism of fire:
"The dead and wounded lay so thick that we were continually treading on them (I must tell the facts). The men were not so eager to go up the ladders as I expected they would be. They were as thick as possible in the ditch and, the officers desiring them to go up. I stopped about two minutes likewise. The men were asking 'Where's is the 74th?' 'Where is the 95th?' I perceived they were looking for their regiments rather than the ladders. I went up to the ladder, and when about half way up I called out, 'Here is the 94th!' and was glad to see the men begin to mount."
How to Stop Missing Deadlines? Follow our Facebook Page and Twitter !-Jobs, internships, scholarships, Conferences, Trainings are published every day!