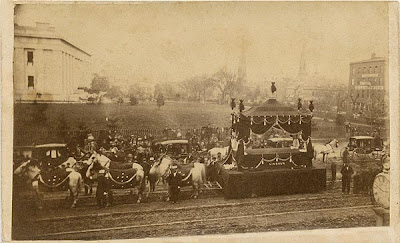 I'd like to share a personal experience I had today in Columbus, Ohio when I got to visit a mobile exhibit titled "Reflections – The American Funeral Tour." The purpose of the exhibit, according to the official
website
, is to provide the public with a greater understanding of the history of the American funeral and the associated practices and customs.
The exhibit has been traveling around the United States for many months now, housed completely in a semi-truck trailer. Special stops on the tour have included Oak Ridge Cemetery in Springfield, Illinois (the site of Lincoln's burial) and Arlington National Cemetery during the Presidential Inaugural Weekend in January. I'd love to include a photo of the beautiful mural on the trailer, but I suspect I'd be violating copyright restrictions if I did. There are photos of it on the website link I provided in the first paragraph. Suffice to say, the montage features the Lincoln Memorial and statue; plus scenes from Ronald Reagan's state funeral.
The exhibit itself features a brief history of funerary customs in America over the centuries, including those of ancient Native Americans. Other funeral customs presented include those held for slaves, United States presidents (including FDR, JFK, and Reagan), and those for other famous and even ordinary Americans through today. Numerous photos, and a mix of authentic and reproduced artifacts highlight the exhibit.
Of course, I was most interested in the section which discusses Abraham Lincoln's funerals. Funerals were held for Lincoln in 12 different American cities, including Washington, D.C., New York, Columbus, Ohio (the image above is an original photo from the Columbus funeral); and obviously Springfield. An interpretative video about the Lincoln Funeral Train is shown, which is informative and not so long as to lose the viewer's attention. A nicely reproduced route of the Lincoln Funeral Train is presented in order to help the visitor realize the long journey Lincoln's remains took to their final resting place. Also featured is a beautiful scale model of the funeral car which carried Lincoln's casket on the trip. And a mock-up of his casket is on display here, too. I've included images below. I didn't take the pictures with flash, so my apologies for the dark photos.
I found the exhibit to be very well done and historically accurate, especially regarding the Lincoln funerals. I didn't know what to expect from an exhibit about funerals, but it was very moving and highly interesting. The
website
link I provided contains much more information, including photos from previous stops, a video gallery, and an upcoming schedule of events. I would HIGHLY recommend it if it comes to your area.
I would be remiss if I didn't mention the field managers for this traveling exhibit. Wife and husband team Abigail and Josh Van
Gelder
were on hand to answer questions, provide interesting historical tidbits, and obviously knew their subject well. For example, I didn't know that the actual funeral car which carried Lincoln's body was destroyed in a catastrophic fire many years ago. Today only pieces of it remain, on display in a museum in Minnesota.
In the interest of full disclosure, Abigail and I have become friends through this blog and through our shared love of Abraham Lincoln and history in general. She contacted me originally as a source of information about the Lincoln funerals and I was happy to point her towards books and other resources for her research, plus answer some general questions for her. Abigail and Josh invited me as their guest to view the exhibit today at the Ohio Funeral Directors Convention in Columbus. Unfortunately, the exhibit is not open to the public during this event for some reason, but it will be at future venues. I want to publicly thank the Van
Gelders
for their hospitality and warmth with which they welcomed me. Thanks Abs and Josh!